LATEST...
Police investigations are underway following a fatal collision on the A5104 Bryneglwys, near Corwen yesterday.

tom jones
37 mins ago

Original Schmoozer
7 hours ago
@wrexham
So if you have a corsa renault or taxi & it's 3am on a sat nite, you can turn all the roads around the museum area into Santa Pod.

Daniel Stephens
2 hours ago
@wrexham
What's that big yellow thing in the sky!? Could be sunshine. It's been that long since we've last seen any !!
Ben Hughes
12 hours ago
@wrexham
does anyone have any lovely 90+ year old grandparents/parents who drive & would like to feature in a new documentary I'm filming?

Becky Griffiths
13 hours ago

Matthew Purslow
13 hours ago

Wrexham.com
16 hours ago
Girl on a scooter playing chicken with vehicles on Llay New Rd - take car if driving in that area, she just tried to take on a bus! :(

Wrexham.com
17 hours ago
A 'Bomb Scare' closed a town centre shop this afternoon - MORE:
wrexham.com/news/bomb-scar…
PIC: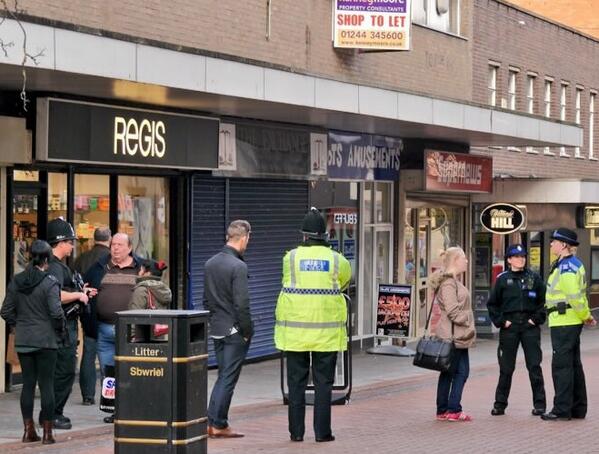 Colin Bagnall
17 hours ago
@wrexham
missing dog in Penycae grey scruffy looking dog tag has Ruby and a number pls RT
Nel
17 hours ago
@wrexham
all fine now, lights back on, was a nightmare getting out earlier!
Nel
18 hours ago
@wrexham
traffic lights are out on the junction by the Wheatsheaf pub, Mold road, Gwersyllt, take care!

Wrexham.com
18 hours ago
FULL TIME: Wrexham FC 0 - 0 Kidderminster Harriers .

Chris Jones
18 hours ago
@wrexham
anyone else lost all electric in gwersyllt ?

Wrexham.com
18 hours ago
Wrexham v Kidderminster this afternoon at a breezy Racecourse & Andy Bishop has been SENT OFF (0-0)
You can view our last 500 tweets in our Twitter Archive by clicking here.
Wrexham Forums
B